SCMM gains new exhibit through student internship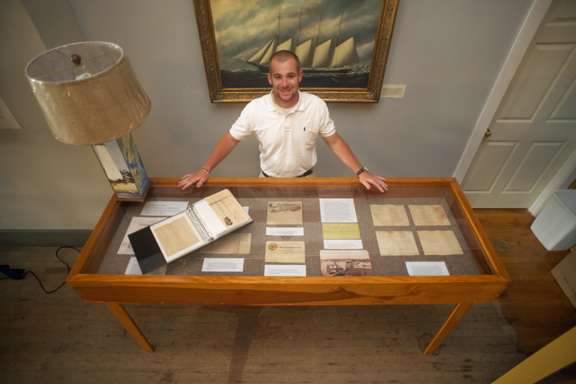 Staff members and volunteers at the South Carolina Maritime Museum work to make their displays and activities useful, relevant and fun for the Georgetown community, and one of the many ways they accomplish these goals is by providing practical experience credit for college students.
22-year-old Walt Poston is an Andrews native who attended Virginia Intermont College in Bristol, Virginia. He needed one more requirement to earn his bachelor's of history: an internship.
S.C. Maritime Museum director Susan Sanders was happy to offer Poston the chance to complete his degree by creating a new museum display merging community commerce with maritime history. The topic was perfect for the young man who likes approaching history from the perspective of social interaction.
Museum board members Sid Hood and Sally Swineford own the River Room Restaurant located a few steps away from the museum. The River Room is in a circa 1888 waterfront building that was originally the J.B. Steele Building, and in it were two businesses known as the Steele-Moses stores. One of them was the J.B. Steele Grocery and Drygoods store where customers could buy a vast array of goods, from groceries and grease to hardware and hats.
When Hood and Swineford went into the building's attic they discovered a treasure trove of late 19th century documents including shipping receipts, business checks and letters. Some pieces are framed and on display in the restaurant, but many more documents were unseen. Walt Poston was given the job of displaying the items in a way that would connect them to the area's maritime history.
With help and guidance from Sanders, museum historian Robert "Mac" McAlister and Julie Warren of the Georgetown Digital Library, Poston learned how to interpret the dozens of documents. He discovered how John Burness Steele had a sales agent in New York City who found goods through manufacturers and wholesalers in major cities like St. Louis, Chicago, Baltimore Philadelphia and New York, and he and bought them in bulk. The wares were then shipped to Georgetown on Clyde Line steamships that traveled between New York City and Jacksonville, Florida.
Once the goods arrived in Georgetown, Steele filled orders for customers who lived along area waterways.
"Mr. Steele would pay steamboats like the Waccamaw Steam Liners to ship the goods to his customers. He sent them everything, like brooms, plows, grease, muskets and stove pipes. They shipped everything…through the waterways. There weren't any Mack Trucks – the waterways were the highways."
The display contains several receipts and checks for such goods, and Poston described their relevance to locals' lives through captions, in a flow diagram. It illustrates how the Georgetown port was an important commerce hub. The documents have intricately beautiful letterheads and illustrations such as sailing ships, and their transaction information brings alive a time when the maritime industry was critical for everyday transactions.
Of particular note is a significant document any museum would be proud to display – a letter beautifully hand-written by Elizabeth Allston Pringle, a noted Georgetown writer who published "A Woman Rice Planter" in 1914 and "Chronicles of Chicora Wood" in 1922. Both books eloquently describe life before, during and after the Civil War.
In the letter at the S.C. Maritime Museum, Pringle wrote to J.B. Steele about a stovepipe she ordered. It's a mundane topic, but for Poston it's an exciting peek into the lives of those who depended on area waterways.
"I feel like you can bring local history to life through displays like this," he said. "It's good for the community. And I've learned a lot [during my internship] about how a non-profit organization stays afloat. I wouldn't mind staying involved…They have the support of the community and the right motivation to move forward."
Want to know more about Walt Poston's display? The Georgetown County Library Teen Producer Club made a video about it:
Lowcountry Waterways: Commerce and Transportation of the Late 1800s